Welcome to Belgarth Bodhrans' website.
Based in the Orkney Islands, we have been making bodhrans professionally since 1996 and now export throughout the world.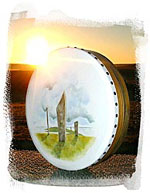 A special edition Belgarth Bodhran drum created for a customer in the USA.
As well as providing full details of our range of bodhrans, the site now gives a little background to the manufacture of our drums and lists our other products.
We hope you enjoy your online visit and if you have any queries about any of our products, please don't hesitate to get in touch.
And if there are any website visitors who ever find themselves in Orkney, we are always pleased to welcome folk to Belgarth.
The bodhran, pronounced bow-rawn or boran, is an ancient single-headed frame drum.

Although variants of this design are found in many cultures, the bodhran is usually associated with Irish music.

That said, the bodhran is now used to good effect in many different musical styles and has come to be recognised as a versatile musical instrument.
---

---